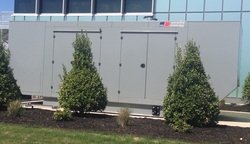 United Engines - Power Generation
Here is a new 500kW MTU Diesel Generator with a Level 3 Sound Attenuated Enclosure installed at a 10 story office building in Rogers, AR. Our customer chose to use a remote main fuel tank in lieu of the Sub-Base to lower the overall height profile of the generator. Our team was involved in all stages of this project from the initial design to the final product, United Engines was there to ensure the customer got exactly what they needed and wanted. Are you getting what you want from your generator provider?
To learn more about United Engines and MTU Onsite Energy visit our website at www.unitedpowergen.com.